3 Channel Gas Detector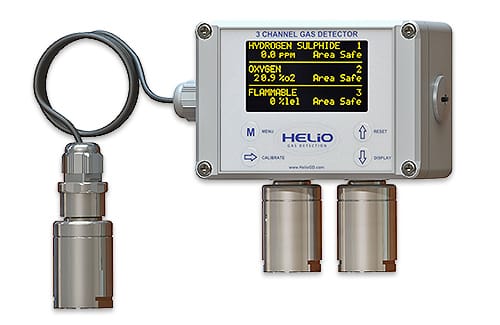 HELIO Gas Detection are an Irish company manufacturing intelligent gas detection safety systems. HELIO 3 channel gas detectors are installed in industries where there are a combination of gas hazards present including Waste Water Treatment Plants, Boilers, Laboratories, Car parks, Breweries, Landfills, Pharma and Bio-Pharma facilities.

Supplied with a 2.5″ OLED display, visually indicating 3 separate gas levels and alarm conditions. 6 x volt free relay alarm contacts, RS 485 Modbus and 3 x 4-20mA output as standard, The HELIO 3 channel gas detector can operate independently or interface directly with a HELIO control panel to monitor a wide range of flammable and toxic gas hazards using Infra-Red, Catalytic and Electrochemical sensor technology. Network up to 200 HELIO gas sensors to further reduce installation costs. Remotely mount 3 individual gas sensors up to 25 metres from the HELIO 3 channel gas detector.