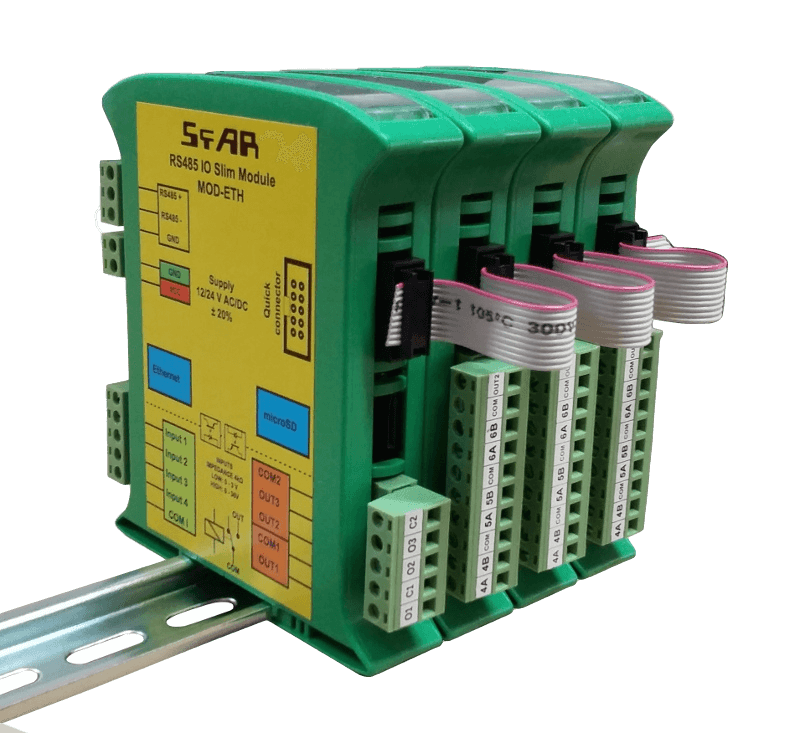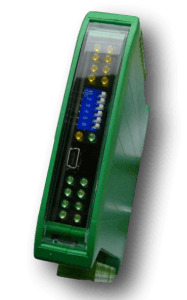 8 Analog Universal Inputs
• INPUT: 8 universal analog inputs;
• OUTPUT: RS485 - Modbus Slave (ASCII, RTU);
• Up to 64 modules on RS485 network;
• Mounting on a DIN rail;
• Voltage input: 0~10VDC; -10~+10VDC;
• Current input: 0~20mA; 4~20mA; -20~+20mA;
• Individual channel configuration;
• Comfortable connectors for cables (up to 2.5 mm2);
• Configuration: Modbus Configurator (free);
8 Analog Universal Outputs
• OUTPUT: 8 universal analog outputs;
• OUTPUT: RS485 - Modbus Slave (ASCII, RTU);
• Up to 64 modules on RS485 network;
• Mounting on a DIN rail;
• Voltage output: 0~10VDC;
• Current output: 0~20mA; 4~20mA;
• Individual channel configuration;
• Comfortable connectors for cables (up to 2.5 mm2);
• Configuration: Modbus Configurator; (free)
16 Relay Outputs
• OUTPUT: 16 digital relay PNP;
• INPUT: RS485 - Modbus Slave (ASCII, RTU);
• Up to 64 modules on RS485 network;
• Mounting on a DIN rail;
• Max load 3A/COM 250VAC; 3A/COM 30VDC;
• Watchdog function;
• Comfortable connectors for cables (up to 2.5 mm2)
All Helio products can communicate with each other allowing a wide range of installations suiting most requirements with a single solution.
Non Helio products can be added to the network including temperature, pressure, radiation ,existing detectors or any device that provides an output.
Intuitive menus and on screen help text ensure ease of use and minimal training.
Add relays, analogue inputs and outputs with expansion modules as required.